What is Acupuncture?
Acupuncture is one of several therapies used in East Asia. In acupuncture, various points on the surface of the body are needled to stimulate healing.

Needles?
The needles are ultra-thin. They come sterilized and sealed, and are never reused. Most patients feel relaxed after the needles are applied to the skin.

Hope to Book an Appointment?
Scheduling an appointment is quick and easy. Just click on the link to the Schedulista page and follow the on-screen instructions. Schedulista

Why See an Acupuncturist?
The benefits are many. Traditional Chinese Medicine views sickness as arising from over activity or weakness in the body. A good acupuncturist can nourish, quiet and calm the vital organ systems while relieving symptoms.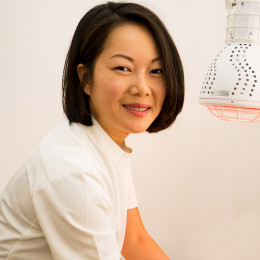 Meet Our Acupuncturist
My name is Joyce Wu and I'd like to extend a warm welcome and thank you for visiting my site. I practice traditional Chinese Medicine using manual therapy techniques to help calm nerves and increase energy. When I was a young apprentice, I saw many lives transform for the better from the benefits of Chinese Medicine. This was my inspiration to become a Licensed Acupuncturist, treating the root causes of illness as well as the symptoms.
I have created a warm, healing environment and use a very gentle yet firm touch. My focus is patient centered so I rely on feedback from my patients during the session. When indicated, I can complement your treatment with recommendations for raw herbs which I also provide.
Please contact me so we can begin your journey to better health today!
What Patients are Saying ….
"I had been searching for an acupuncturist for an achy stiff shoulder that would often act up for any number of reasons––weather, stress, sitting, standing. I knew I needed strong medicine. I was also going thru a very emotional rift in my life. I was full of stressors that at the time manifested in aches, pains, insomnia and indigestion. My body was not happy and I was not happy. Joyce's approach was dynamic as my symptoms. From needles to massage and herbs I felt my body responding differently to stressors. I remember calling her after a session on my way home. 'I lost my keys,' I exclaimed to her in total surprise, 'but I feel fine about it.' The therapy had allowed my body to deal with stress differently."
K. P., Youth Outreach Counselor
"I am grateful to have Joyce be part of my journey in healing. She has a gentle hand and is skilled in applying the needles. She is a great listener, genuinely cares about her clients health, knowledgeable about how disease manifests in the body, and how that is related to our emotional state. She will tend to your needs during treatment. My energy level has increased and I no longer feel fatigued. Joyce embodies the qualities of what a committed healer needs to be!"
Liz, Psychotherapist
"I would be a cripple and, more than likely, in a wheelchair, if it wasn't for Joyce. I have had health problems since the age of 16 and in August reached my 85th birthday. Through Joyce's dedication to this ancient healing, I've improved a lot. She is the most dedicated healthcare professional I ever had looking after me."
Gene
"Joyce Wu is heaven-sent! She genuinely listens and cares about the well being and happiness of her patients. Joyce Wu utilizes a variety of modalities (acupuncture, herbs, cupping) to address my specific needs. She gives me adequate time for optimal treatment. More notably, I'm seeing results …. decreased symptoms, strength, and higher energy. I leave her office glowing … literally!"
M.B., Doctor of Dentistry
"I've been seeing Joyce for several months now for primarily stress related conditions and more recently to get support from a broken ankle I got from a bicycle accident. She has been tremendously helpful and generous in sharing her expertise in acupuncture and herbs to help me heal. My orthopedic doctor told my recovery time is 6 weeks but with Joyce's help I was back on feet again just a little over 4 weeks. I am very grateful for her help!"

L. Domingo
"Joyce Wu gave me my life back. I suffered for years from severe fatigue, digestive problems, and muscle pain. Before seeing Joyce I was bedridden for days and weeks at a time, and a dozen other health practitioners I saw (including three acupuncturists) only brought me marginal improvement. Joyce's approach was very different from the others and has included acupuncture, cupping, gua sha, raw herbs, and specific nutritional guidance. She also made herself available by phone and email between treatments to answer questions and monitor my progress. I felt major improvement within weeks of seeing her, and after a few months my health has never been better. Her treatment has truly worked wonders for me."
A.M., Consultant
"I met Joyce Wu while she was a student intern. Even as a student, she was one of the best diagnosticians I've had the good fortune to meet. Joyce was the only one to get underneath a problem created by medical misdiagnosis in my first six months of life that caused ever-expanding problems for almost 70 years. With Joyce's help, I was finally able to start real healing. She has continued to learn and to improve her skills and now uses the most advanced and effective acupuncture techniques that I've ever experienced in the more than 35 years using TCM to do what western approaches could not. I would recommend Joyce to anyone who has tried virtually everything and is still serious about getting well."
Sandra
Two Bay Area Clinics to Serve You By Appointment Only